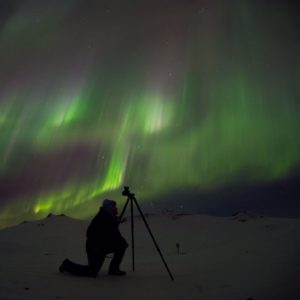 My name is Magnús Ásmundsson, I am born in Iceland and have lived here most of my life but it was not until a few years ago I really started to appreciate how lucky I am to have access to some of the craziest landscapes in the world and how dark skies we have even just outside Reykjavik city where I live.
I regularly meet tourists and locals out photographing that don't really know how to capture the northern lights, many of them with decades of experience in all kinds of photography but are having big problems getting a good Northern lights photo while on their trip. I've pointed many in the right direction and really enjoy seeing things work out for them. I also offer photoguided tours where I take a small group of people on a private tour with me where we hunt down the northern lights and I show you one on one how to set up the camera and then each person gets to shoot their own piece of art to enjoy for life.
One thing that in my opinion is a must to do while visiting Iceland during the winter is to go on a photo tour with an experienced guide. Not only will you ride in a customized superjeep to places where most people stay clear of in the winter (which is an experience in it self!) but most guides are enthusiastic about giving you the best experience possible, and are happy to help you getting the best photos possible on the trip. My goal with this site is to get you the tools you need to grab the chance any night on your stay here to jump out with short notice and get some more shots of the amazing Northern Lights!
Since I started photographing my main passion has always been enjoying the outdoors and the epic light shows we have over the winter but I do studio and wedding photography as well.
My gear and experience has grown alot over the years and I have done a few comercial jobs where very special northern lights photography and videos were needed. I take much pride in my work and always strive to learn more. Feel free to contact me at any time.
Happy hunting!