Photograph the Northern lights in Iceland like a pro with the information in the below:
First a little bit about what to wear on the hunt for the lights:
Since this tutorial is aimed at tourists traveling to Iceland to see the Northern Lights a.k.a. Aurora Borealis I'm going to assume that you all ready know what to expect here weather wise, but I will say a few things just in case;
The weather here can change very quickly, be prepared for anything. Many have made the mistake of thinking the weather will stay the same for the evening, we can experience all four seasons over a couple of hours 🙂 the good news about that is the fact that even if it does not look to good "right now" the conditions could be perfect in a few minutes so it pays to keep an eye on the forecasts.
Put on some more layers then you would normally in the same conditions, while photographing you are not moving around much so the cold can get to you much faster then if you were going on a hike for example, most instances you are not going to move far from the car to set up and start shooting.
The windchill is a big factor once you leave the city, it can get much, much colder then what the temperature meter says it is.
Pack some extra clothes and leave in the car, it is always nice to be able to put on some dry socks and sneakers before the trip home if the boots get wet on the trip 🙂
Bring a headlamp, flashlight and extra batteries. Many would recommend a bunch of different lights, filters for the lights and what not. Of course that is better but in my opinion not necessary, I have a good led headlamp, with a high/low setting and a high quality flashlight in my pocket, plus the light on my mobile phone and that is more then enough for me so far in all my northern lights photography trips.
What camera gear to bring?
Most dslr's and even some point and shoot cameras today can capture the Northern Lights. You can use just about any lens but the bigger the aperture it has the better. I have read many times on the internet that anything smaller (higher number) then f2.8 is unusable and f2.8 is on the edge of being usable.. of course you'd be better off with a very big aperture but I started with a EF-S18-55mm f/3.5-5.6 on a Canon EOS 400D, that was all I had access to at the time and I was very happy with the results I got back then, could I have gotten better photos with more expensive gear? Probably, but that didn't keep me from trying anyways and any photo is always better then no photo at all 🙂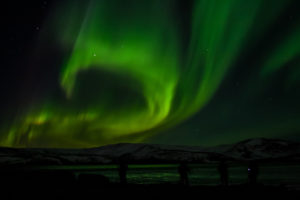 This is a photo from one of my first hunts, 
 in March 2013.
 Here i used a Canon 400D with the kit lens 
 EF-S18-55mm f/3.5-5.6
 This is shot at f3.5, 24mm, 1600 iso, and a 
 4 second exposure.

 Photo is taken at Kleifarvatn, a lake south 
 of Reykjavik, awesome place to go for night 
 photography in Iceland. 


When I wrote this guide most of my photos were taken on a Canon EOS 6D body and a Samyang/Rokinon 14mm f2.8 lens, today I have upgraded lenses and camera bodies but the guide still applies the same today. That combo is perfect for me and not to expensive, most of the pictures in my galleries are taken on that combo but here is an example were I took the f-stop to f7.1, a big no no if you take most guides word for word but I wanted everything in focus and to get some star burst effects as well so I experimented with that and was happy with the results, so don't be afraid to try different things while out there – I will how ever give you a basic recipe to start with and from there you can adjust and play around with the settings. It's worth noticing that you need strong auroras to catch them on such a small aperture.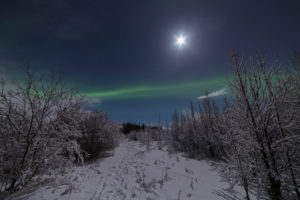 This shot is taken on a very still night and on a 
 full moon.
 
 I wanted to keep the details on all the trees while 
 getting some auroa in there as well.
 
 The gear used is a Canon Eos 6D and a Samyang 14mm 
 f2.8 lens and a carbon fiber tripod plus a remote 
 shutter release.
 This is shot at f7.1, 14mm, 800 iso, and a 
 8 second exposure.
 

The settings I recommend you try to begin with are:
Use the widest/fastest lens you have (lowest f-number) with more emphasis on widest, a ultra wide 2.8 will beat a 85mm f1.2 in most cases 🙂
Use RAW mode for photos if possible, if you are not familiar with raw then try to use raw+jpg if you can, the raw file is a lot better to use later on in post processing.
Set the iso to 1600
Start with a 4 second exposure time
Switch the lens to manual focus and turn of image stabilization if there is a setting for that.
Use a remote shutter so you do not have to touch the camera to take the shot, if you don't have one that's OK, just set the timer on the camera to a few seconds so its steady when the shot is taken.
Make sure the tripod is as sturdy as possible, hang your camera bag or something on it to make it more steady if you can and if it has a center column then try to have it as low as possible since on most tripods it is the weakest link stability wise.
I like to remove the camera strap from my camera while doing long exposure to make it more steady if there is a small wind, but its up to you if you want to do that or not.
Use live view to focus on something far away like a star, or if that is not possible then focus all the way to infinity and then just a tiny bit back, then take a photo and view it zoomed in afterwards to see if the focus is right then adjust accordingly.
Try not to go over 20 second exposure time because then you start to get movement in the stars (star trails) unless that is an effect your are after 🙂
Now you are ready to start shooting, next step for you after you get on location is to do some test shots. You will quickly see if you need to adjust the time and iso, likely the photo will be over exposed and you need to take down the time and iso. But at the same time you can use those settings to see if there is something starting, because the camera will sometimes see the aurora before you and if you see a faint line somewhere then you have time to set up pointing in that direction and get ready for a bigger show. In case there is already a lot of activity once you arrive then I suggest starting at 400 iso for 4 second and adjust from there. In extremely strong activity you might need to go as low as 1/60 seconds exposure.
Those are the basic settings you need to start photographing the Northern Lights, I won't go into details on white balance and more advanced settings but if you want to change that then I recommend setting the custom white balance to K4400, that is normally very close to being right and then its easy to correct if needed in post processing.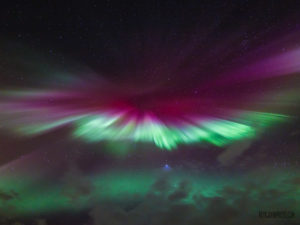 Here is a photo from February 2014, taken in 
 Þingvellir, one of Icelands national parks.
 
 Here i used a Canon Eos 6D with the Samyang 
 14mm f2.8 This is shot at f2.8, 14mm, 800 iso
 and a 6.3 second exposure.

 That night there was a Geomagnetic storm with
 activities from KP5-KP8 at least, 
 this shot is aimed straight into the eye.
I hope this northern lights photography tutorial can help you get the best photos you can on your trip here to witness the amazing lights, but don't forget to take it all in as well while your there so all your memories of the Northern lights aren't through a view finder 😉
Aurora forecast tools and how to use them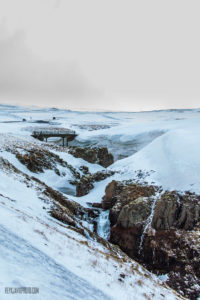 Here are links to important tools and a brief explanation on what to look for when planning to photograph the aurora borealis.
I normally have most of those sites open in tabs on my mobile phone while out hunting and check regularly over the evening.
First I will give you the link and key note information on what to check on each site, under the link you can read a more detailed explanation.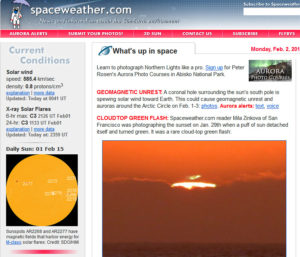 Very informative site and there you can learn a lot about aurora and of course, weather in space 🙂
I check this site daily during the season but only briefly.
They monitor the conditions in the space around us closely and often you can get a good aurora forecast up to 3 days a head.
So be sure to scroll through their page and see what's going on.
When you have time you should take time and explore the information on that site, it's very informative.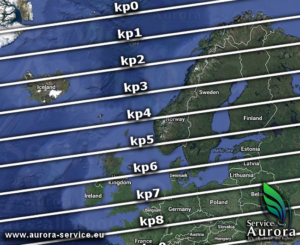 Here we have a very dedicated team of aurora hunters in Finland.
They regularly make a 3 day aura forecast in text (make sure to check the dates on the forecast since it's not always updated.)
However they have a short term aurora forecast that is normally pretty close to what we see and good to follow.
The part I like the most is the solar wind gauges where they show what Nasa is measuring right now.
It's very useful and you can read in detail how it works on their web site but basically what you should look for is the Bz number.
We want that Bz to be in minus, if its on the plus side then even if all other data is very promising there are no lights showing up which can be very frustrating 🙂
But it can jump up and down so we don't give up even if its on the plus side when we check.
The other two gauges are pretty self explanatory, Speed km/s is the speed of the solar win headed to earth, the higher the number the more lively the show can get.
And last Density cm3, the higher that number gets the better for us. On the Image you see a map with Kp index lines, on their website you see a live version of that map that gives you an idea of the activity.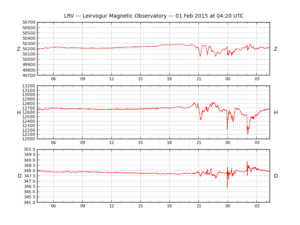 Here we have real time measurements of the geomagnetic field over Iceland measured from Leirvogur in Iceland.
This is in my opinion the most accurate information on what is happening right now over us.
If I'm sitting in front of the tv and happen to see a big dip on the Z scale then my heart starts racing, if the cloud forecast is on my side as well then I'm out in minutes!
Things can happen really fast, I have made the mistake of seeing a very big spike, gathering my gear and watching epic northern lights dancing over my home on the way to the car.
And after rushing to drive to a darker location only to have no activity once there, I would have been much better off grabbing the opportunity right at home!
Back then I thought you had to go to total darkness to get some decent shots but these days I'm more excited about photographing buildings or other things around the city in the foreground.
And with the right technique you can have just about anything in the photo with the aurora dancing in the background.
Next I will put three different links to check local weather, cloud cover and road conditions.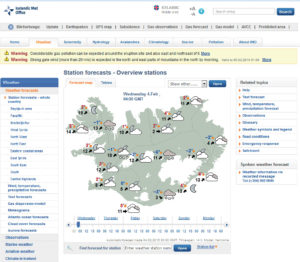 On this page you can see how the weather is and use the slider at the bottom of the map to see the forecast for the next hours.
You can select any part of the country for a more detailed view but you get a good idea about the weather on the overview.
Be sure to check the text forecast below the image as well, if there are any warnings from the Icelandic Met Office the will be displayed there or in bold above the image.
Also the text forecast is always both more accurate and informative.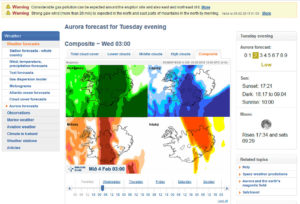 While not the most accurate aurora forecast around, the cloud forecast is usually pretty accurate.
Make sure you check lower, middle and high clouds separately.
It might look like there is complete overcast on the combined photo but that might mean there are almost no clouds except some low ones for example.
You still might catch a good show, if 2 out of 3 forecasts look good and the last not so good I'll usually risk it 🙂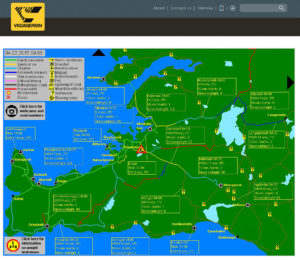 This is the website for the Icelandic Road and Coastal Administration.
It will show you the conditions in all of Iceland but since I want you to have a safe journey I'm only linking to a map of South-West Iceland.
I recommend not going much further then 50 km in any direction from Reykjavik during winter and before you head out be very sure about road conditions and the weather.
I have seen countless rental cars off the road where either the car or the driver was not ready for the extreme conditions we experience in Iceland.
When you look at the map you will see different colors and also boxes with information.
The colors show road conditions and are all explained in the box top left on the site.
The information boxes on the map represent in this order:
Location and time of last automated check
Wind direction and speed in meters per second and temperature in Celsius
Traffic for the last ten minutes: how many drove there
Traffic since midnight: total cars since midnight
I hope this guide gets you on the right track to hunt down the northern lights, I do recommend going on a guided tour to maximize the chances to get a check on the bucket list 🙂
Click here to open my Contact form and send me a message, I am happy to help with anything from questions you might have while planing your trip to Iceland,to assisting you to book a photo tour.