Reykjavik Wedding
Robert and Vibeke traveled from Norway to get married here, and brought a full plane of friends and family with them.
I got to spend the entire day with them from early morning through to the end of the party, amazing experience for me and so much fun to work with them.
They had a beautiful traditional wedding in a church in Reykjavik, Háteigskirkja.
After the ceremony we did some photo sessions in different locations in Reykjavik before finishing the day with a spectacular party in down town Reykjavik.
I hope you enjoy viewing the album from their special day. Click on any photo to open a larger one or start a slide show using the button above the images.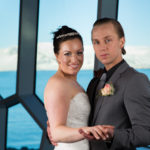 "From the moment we booked Magnus as our wedding photographer, he went out of his way making sure every little detail was planned and executed perfectly. He stayed in touch with us every week before the wedding, sending us ideas and making sure he was updated on the schedule. We met several times to talk about special captions and timings.
Throughout the planning, the Big Day and the time after our wedding, all the way until The Book was finished, Magnus was professional and detail oriented. He treated this day with so much respect, asking us and the priest for permission for his locations to get the best photos.
The wedding day it self went so fast, and of course you have things that don't go exactly like you planned – but now when we have our photo album, custom design by Magnus – our Day looks like a fairytale from the first caption to the very last. I am forever thankful for all the sincere work Magnus put into this, he had photos ready for us already the day after and he worked with the photo album every day after that, until he was sure he had our approval on every single page.
Aside from each other, the choice of photographer was the best one we made for our Wedding Day. We highly recommend him for your wedding, or any special occasion, to capture the details and important memories."